EFT Are Honoured To Welcome Prof. Frank Dick (OBE) As This Years Motivational Speaker At Our End Of Year Celebration Event!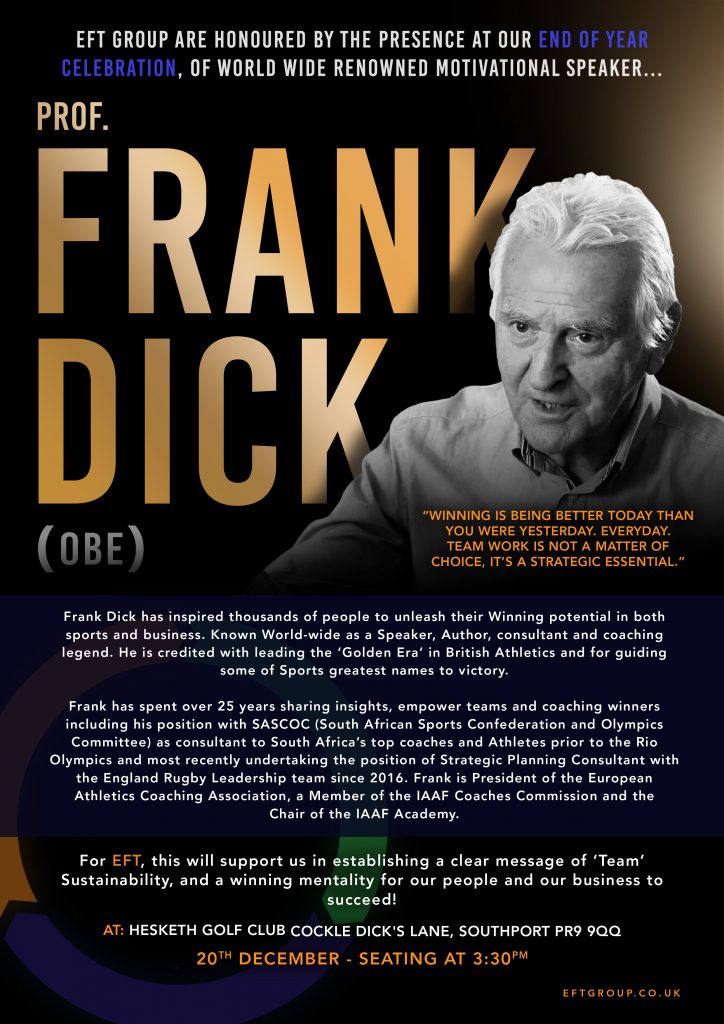 Frank Dick has inspired thousands of people to unleash their Winning potential in both sports and business. Known World-wide as a Speaker, Author, consultant and coaching legend. He is credited with leading the 'Golden Era' in British Athletics and for guiding some of Sports greatest names to victory.
Frank has spent over 25 years sharing insights, empower teams and coaching winners including his position with SASCOC (South African Sports Confederation and Olympics Committee) as consultant to South Africa's top coaches and Athletes prior to the Rio Olympics and most recently undertaking the position of Strategic Planning Consultant with the England Rugby Leadership team since 2016. Frank is President of the European Athletics Coaching Association, a Member of the IAAF Coaches Commission and the Chair of the IAAF Academy.
"Winning is being better today than you were yesterday. Everyday. Team work is not a matter of choice, it's a strategic essential."
For EFT, this will support us in establishing a clear message of 'Team' Sustainability, and a winning mentality for our people and our business to
succeed!
We are all thoroughly excited and looking forward to hearing some words of wisdom from Frank Dick!
AT: HESKETH GOLF CLUB Cockle Dick's Lane, Southport PR9 9QQ
On: Friday, 20th december – seating at 3:30pm