A new position has come available which would see a great opportunity for succession. Do you have the passion to lead a team? Please read the description below for the full job specification and if you are interested please apply via our Facebook page before close of business on Friday 14th August so we can book in interviews!
Link to our Facebook page is at the bottom of the page.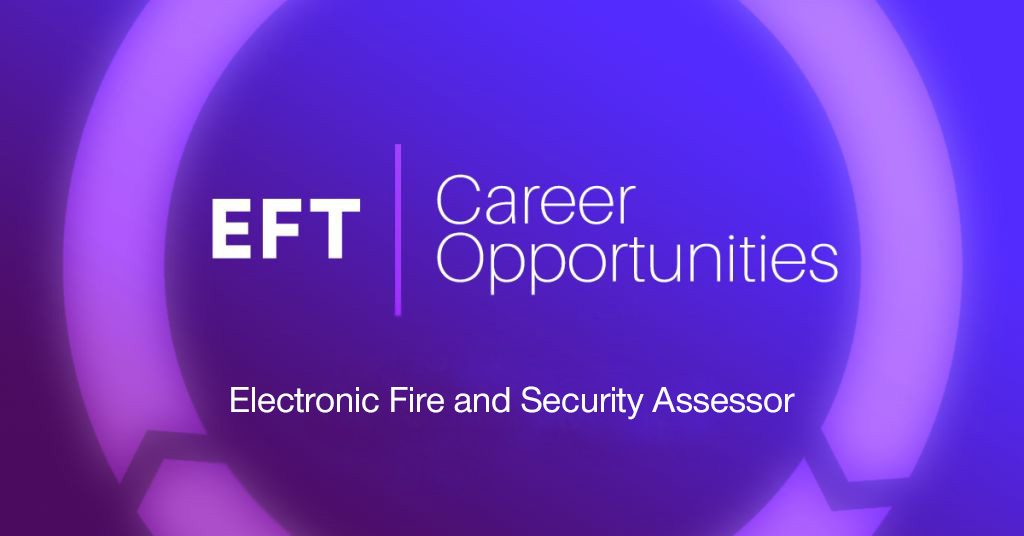 Reports to: Jordan Duggan
Summary of role:
EFT Systems has been established for over 45 years, the group has grown over this time, at it time to grow again.  EFT are Systems are building a state-of-the-art Electronic Fire & Security Assessment centre. The Assessment centre will hold End Point Assessment's (EPA) for Apprentices working towards being qualified Electronic Fire & Security Engineers.
The EPA assessor will be responsible for the management and administration of the facility. Duties will include assessment of these apprentices as they complete both practical and theoretical assessments. 
The EPA assessor will have to work alongside NET the organising body, to assess the apprentices to deem them competent to be classed as an engineer, within the guidelines set by NET Services. The business will develop and invest in the successful candidate to obtain the required qualifications (these are not required prior to application). 
This role is best suited for someone who wants to make a difference in this Industry.  This is a management role that would suit someone looking to move from the engineering side of our industry into a more senior role and who is looking to maintain a standard set of working hours. To help maintain and drive engineering standards for years to come. This person has to maintain their own personal standards when it comes to assessing. 
Great communication skills required.
The successful candidate will be working for a progressive company with excellent career potential and benefit from extensive training and a strong all-round package.
Place of Work: Southport – EPA Centre.
Hours of Work:
• 9.00 am to 5pm, Monday to Friday (half hour for lunch).
• 37.5 hours per week.
Salary Band/Package:
• Salary Band: £30,000 to £35,000 (dependant on experience)
• Discretionary Company Bonus
• Mobile phone
• Lifestyle benefits: Healthsheild – following successful completion of probation period (6 months).
• Continuous professional development opportunities
• Holidays: 29 Days per year paid holiday (including Bank Holidays), increasing to a maximum of 32 Days with time served
• Company stakeholder pension scheme
Responsibilities and Key Deliverables:
Assessor duties
• To observe and assess apprentice completing practical work.
• To invigilate theoretical assessment.
• Oversee the day to day running of the assessment centre, including the diarising of tests in conjunction with the admin support team.
• To maintain standards of the assessment centre including equipment used by apprentices and reordering where required.
• Keep yourself up to date with the current industry standards.
• Undertake all required training, within an agreed timescale, to be able to assess as per Net Services.
Skills, Experience and requirements:
Essential
• IT literate in basic Microsoft applications.
• Excellent communication skills both written and verbal.
• Effective time management and ability to multitask.
• Capable of working in a high pressure and deadline driven environment.
• A keen an eye for detail, especially when observing.
• At least 5 years post qualification experience in the Electronic Fire & Security Sector.
• Qualified to level 3 engineer in the Electronic Fire & Security Industry.
Desirable:
• Have a relevant Assessing qualification i.e Level 3 Assessor (training will be provided).
• Have a proven track record of undertaking Professional Development.
Key Behaviours:
• Enjoy your work and embrace challenges.
• To be adaptable and methodical in your ways of work.
• Taking initiative and have experience in problem solving.
• Energy, Drive, Enthusiasm, and a CAN-DO ATTITUDE.
• Personable and enjoy interaction with other areas of the business.
• Willingness to learn.
• Aptitude for emotional intelligence and have an approachable demeanour.
Click HERE to apply now via our Facebook Careers post!