We are delighted to announce our chosen charity for 2020 – Community Link Foundation!
The mission of Community Link Foundation is to support and enhance the lives of those living in the local community and surrounding areas to help ensure a positive future for the future generations and to strengthen the local communities.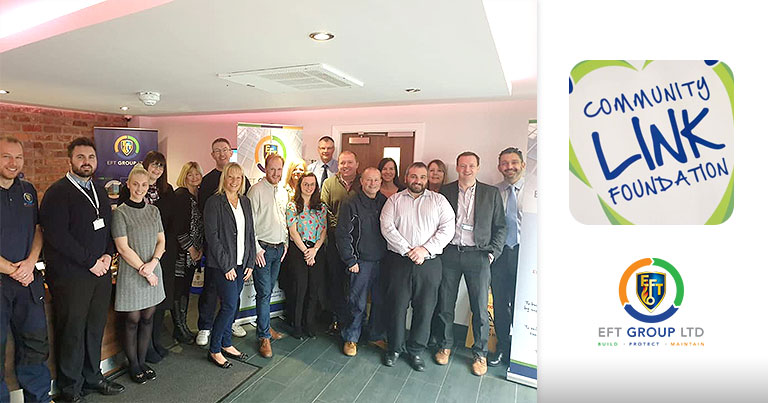 Community Link Foundation said on their website:
A Southport based business has chosen to support Community Link Foundation for the year ahead after hearing about the 'amazing charity'.
EFT Systems based on Cobden Road have pledged their support to Community Link Foundation for the next 12 months.
They chose CLF after they asked all staff to nominate any charities that they are passionate about. They then selected the top two and asked staff to choose which one to support. They find that by doing it this way, the staff really take the chosen charity to heart.
The business which provides leading solutions and services for life safety, security and automation has 110 employees. When they partner with a charity they set a target of around £10,000 each year and they raise money by completing different events each month. In the past these have included Tough Mudder, Southport Mad Dog 10k, Southport Seaside 10k, GungHo, Coast to coast cycle ride, Comedy Bingo, party nights and lots more.
Jordan Duggan, director at EFT, said: "The charities that we have chosen over the past few years have been mainly national charities with regional support offices so we knew the monies raised would be going to support local people.
"This year we felt really passionate about doing something within the Sefton region to help directly impact families in our area. We found out about Community Link Foundation through our links with Enda Rylands and David Duffy (trustees of the charity).
"Once we understood what a wonderful difference the charity was making and the support it was giving to people that were really in need, it was an easy choice to make. Nobody can ever know what the future holds and to know that there is such an amazing charity, that is on our doorstep, that is there should the need arise is truly inspiring."
Enda Rylands, chairman of Community Link Foundation, said: "We are incredibly grateful to EFT Systems for offering their support to CLF. It is great that so many people have chosen to support a local charity and they can be assured that all the money they raise at their workplace will be used in the local community.
"We are so grateful to the team at EFT for being so passionate about helping CLF and we look forward to working closely with them. Thanks to their support we will be able to help many people across the area in the coming months."
Source – clfoundation.co.uk
We can't wait to get involved with this charity and start helping to make a positive difference for the people who live in the local community.